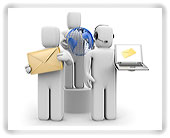 Fast German Translations is a company dedicated to the creation of accurate translations into or out of German, and we have expertise to produce special translations utilizing the technical vocabulary and specialized knowledge needed to work in a number of specialized industries. Below is a list of some of the areas where we offer industry expertise along with expert translations.
Website Translation and Localization
Germany is the economic engine powering the European Union, and this has made it increasingly important in the world marketplace—and has made it important to offer your website in German as well as English to tap into the power of Europe. This simple process will improve your company's bottom line by making yourself available in a market that is one of Europe's largest. Our translators understand German culture and language, so they produce translated content in a natural and fluid idiom that appeals to new customers in their own language and expands your firm's global footprint.
As the global business engine attracts more people to Germany and more Germans to areas abroad, businesspeople will find that legal translations to and from German are increasingly necessary to maintain the flow of business across continents. When translating legal documents, precision and accuracy are vital to ensure that the document reads the same in both languages. Fast German Translations produces exceptional legal translations, and we specialize in real estate translations, patent translations, and German deposition interpretation. When you perform legal tasks like transferring a deed, signing a lease, or making an offer, we can translate your document so it accurately reflects the original in its new language. Legal documents are frequently difficult to understand thanks to jargon and technical terms, but we can help you understand them in English or German.
If you are working in Germany or you are a German-speaker arriving in a new country for business or to settle, you need to ensure quality continuity of medical care. This means that it is vital to translate your medical documents accurately to or from German so your new physician has an accurate medical history to give you quality care. Fast German Translation offers personal medical translation, and we offer corporate medical translations of clinical trial information, drug interaction listings, patent applications, and other medical materials. Our medical translations are always accurate, and our expert translators use appropriate medical terminology in translating.
At Fast German Translations we know that Germany is the business center of Europe and because of this, financial translations to and from German are vital. Our translators have expertise in the financial sector and can translate financial terminology into and out of German in both industry-specific language and in layman's terms. We can translate including financial statements, annual reports, and other documentation in order to help your business expand into German-speaking markets, or your German-language business expand to English-speaking areas.
Marketing materials define your company to your potential customers in each market in which you operate, making it important for your company to ensure quality translations of your marketing materials be effectively translated into and out of German. To do this, you need to entrust your materials to a translator known for accuracy and integrity. At Fast German Translations, we use the idioms and language of real German speakers to appeal to your target audience in their own way. Our translators can review websites, printed materials, slogans and tag lines to ensure a clear and concise message in either German or English that will help market your products and services in new markets.