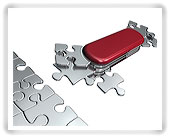 Fast-German-Translations.com offers a range of services designed to meet the needs of contemporary businesses working with German-language clients, customers, suppliers, and subsidiaries. Whether you need material translated into German or out of German, our translation specialists have the knowledge, insight, and skill to provide you with high quality translation on any deadline.
Our services include but are not limited to:
Marketing Translation
We can work with you to translate your marketing materials into or out of German. This can include advertisements, brochures, websites, packaging materials, manuals, and other documents that you use for communicating with your clients. Marketing materials are the face you show to your clients and customers, and it is essential that these materials be translated carefully and perfectly since any mistake—no matter how small—can create a negative impression and potentially cost you sales. These materials, however, cannot simply be translated word-for-word. You need to adjust these materials to account for cultural differences and the different use of language in German and English. Our language experts understand these differences and can work with your marketing materials to create translations that work well in your target language.
Website and Software Translation and Localization
Similarly, websites and software for internal or external audiences require localization in order to work properly in the target language. Not every piece of software or every web page can simply be translated word-for-word. In many cases adjustments are necessary to work correctly in the target language, and our language experts can work with your software and websites to produce versions that work as well in English as they do in German and vice versa.
Contracts and Legal Documents
One essential aspect of doing business worldwide is the need to adhere to the regulations and laws of the countries where your business operates. Our translation service can provide high quality translations of contracts and other legal documents so you can operate your business with confidence in German-speaking countries such as Germany, Austria, and Lichtenstein. Whether your business is looking to rent a storefront in Bonn or sign a supply contract in Berlin, our legal translation experts have deep knowledge of the legal terminology used in German and can apply that knowledge to provide high quality translations of your legal documents to meet your every legal translation need.
Interpretation Services
We can also provide interpreter services to work with clients immediately for on-the-spot translations of conversations for business meetings, contract negotiations, regulatory proceedings, or other face-to-face, electronic, or virtual communications where German-to-English interpretation is required. Our interpretation experts will work with you to provide real-time translations of your conversations to ensure that all parties in your meeting or negotiation fully understand everything that is said.
In addition to these popular services, our translators are prepared to work with you to meet whatever translation needs will best benefit your business. If you do not see a specific translation service or type of translation listed here, contact us by phone or email and we'll do everything in our power to provide the German translation service you need.